Women's Health – Certificate or Diploma Options
NO EXPERIENCE? JOIN THE CERTIFICATE.
ALREADY EXPERINCED, DONE THE MOLINARI WH DIPLOMA, OR OTHER POST GRADDUATE TRAINING, BUT WANT TO CONTINUE YOUR JOURNEY? –

TAKE THE CNMO CLINICAL INTEGRATION IN WOMEN'S HEALTH DIPLOMA.
ENROLMENTS OPEN NOW FOR BOTH OPTIONS
DISCOUNT ENDS 30 SEPTEMBER – payment buttons at bottom of page.
COURSE STARTS 1 OCTOBER 2021.
PRACTICAL SESSIONS IN DIPLOMA ARE IN 2022 (accommodation at low cost may be available)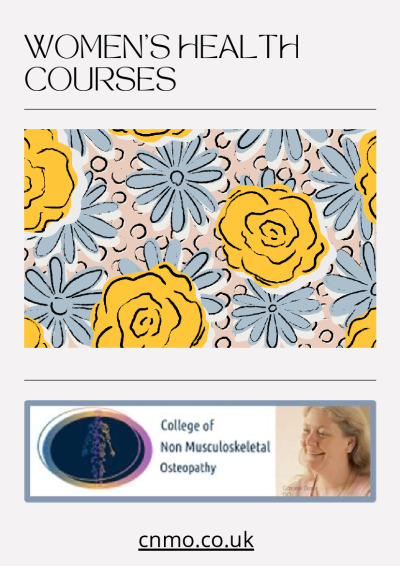 CNMO CAROLINE STONE WOMEN'S HEALTH PROGRAMME BROCHURE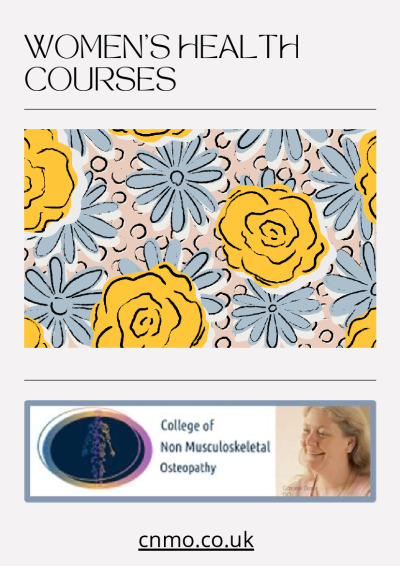 CNMO WH PROGRAMME BROCHURE
View
Women and girls go through a variety of changes in their bodies, functions and abilities as they age. Each stage of their lives, from being a small girl, through puberty, onto childbearing and raising children, through to menopause and beyond, there are unique challenges and often problems (as well as life's joys!). The tissues of the body – muscles, joints, fascia and joints can all become strained either through hormone changes, growth, becoming pregnant, giving birth, or going through postural and muscle weakness problems over time, and through to old age.
FOR THE CNMO PATHWAYS, STARTING AT CERTIFICATE LEVEL / CURRICULUM OVERVIEW
CERTIFICATE SUMMARY:
ANATOMY AND PHYSIOLOGY

AUTONOMICS, VISCERAL PAIN

MICROBIOME AND IMMUNE CONSIDERATIONS IN WOMENS HEALTH

UROGYNAECOLOGY AND PELVIC FLOOR

DEVELOPMENT, HORMONES, BODY IMAGE, GROWTH

ENDOCRINE DYNAMICS, FERTILITY AND OBSTETRICS

BIRTH, BONDING, BREASTFEEDING

POST PARTUM RECOVERY

LIFESPAN ISSUES

MENOPAUSE

CHANGING UROGENTIAL AND MUSCULOSKELETAL FACTORS

ONLINE PLATFORM AND TUTORIAL SUPPORT
DIPLOMA SUMMARY:
CLINCAL ASSESSMENT REVIEW = CONSIDERING ALL THE FACTORS WITHIN THE CERTIFICATE CURRICULUM AND TAKING THEM TO THE NEXT LEVEL:

MANAGEMENT OF VARIOUS CONDITIONS EG fertility, endo, prolapse, diastasis, complex pregnancy, post partum, bladder disorders / cystitis, post surgical issues, cancer considerations, pelvic pain, breast care

CLINICAL PROTOCOLS = WHAT THEY ARE AND ARE NOT

OUTCOMES ASSESSMENT

UNDERSTANDING ORTHODOX MANAGEMENT AND INTERDISCIPLINARY ISSUES

PRACTICAL TECHNIQUE INTENSIVE CLASSES

TUTORIAL SUPPORT

EXTENSIVE EVIDENCE REVIEW AND CASE ANALYSIS

HELPING YOU WORKSHOP COMPLEX PRESENSTATIONS

DEVELOPING YOUR PERSONAL CLINCAL PROFESSIONAL FIELD OF CARE

ONLINE PLATFORM AND TUTORIAL SUPPORT (PLUS ABOVE PRACTICAL SESSIONS)
CLINICAL OBSERVATION POSSIBILITIES
In many cases a manual medicine approach is highly effective in supporting girls and women through these phases and through life's events.
Certificate / Diploma / Collegiate –
CERTIFICATE – ONE YEAR, 3 SEMESTER, 9 MONTHS / MODULES, ZOOM MEETINGS – ALL DISTANCE LEARNING AND OINLINE RESOURCES, TECHNIQUE VIDEOS.
DIPLOMA – YOU CAN DO THIS WITH OR WITHOUT PRACTICALS – SO IF YOU CANT TRAVEL, TAKE THE DISTANCE LEARNING VERSION. YOU CAN ALWAYS ADD THE PRACTICALS LATER. IF YOU ARE ABLE TO TRAVEL, AND WANT TO INCLUDE THE PRACTICALS, THERE IS A DISCOUNT FOR PRE PAYING THEM.
ONE YEAR, 3 SEMESTERS, 9 MONTHS / MODULES, ZOOM MEETINGS – HYBRID FORMAT – including (FOR THOSE THAT ADD IN THIS OPTION) a CHOICE OF 5 3-DAY TECHNIQUE INTENSIVES (IN PERSON PRACTICAL SESSIONS) – COST INCLUDED IN COURSE FEE (excepting travel and accommodation / personal costs in attending), plus CLINICAL OBSERVATION opportunities.
These are advanced level programmes, but suitable for those who are just starting on their journey towards caring for women, and for those who already have some experience.
The Collegiate programmes are for experience practitioners who want to delve deeper and contribute more fully to their patients and to the profession.
Encompassing women's health into osteopathic practice integrates a wide variety of content and understanding.
THIS PICTOGRAMME REPRESENTS THE CONTENT OF THE DIPLOMA AND THE CERTIFICATE (EACH VERSION GOES INTO THINGS AT A DIFFERENT DEPTH / COMPLEXITY)
A two year journey with women's health – with an exit at year one with a Certificate, or year two with a Diploma.
Payment for Certificate Version, discounted till 30 Sept £650
Payment for Diploma Version, discounted till 30 Sept, £2000, practicals included
Payment for the Diploma version without practicals included, discounted till 30 September, £1000.